PURA VIDA TOUR
4X4 CAR TOURING RALLY
January 8th to 21st January 2024

Costa Rica should be on everyone's bucket list and the best way to see it is by driving yourself so that you can stop and experience the wonders of this tiny country, sandwiched between Panama and Nicaragua and the two great oceans, the Pacific and Atlantic.
It is surprising in so may ways. It's not just that the wildlife is extraordinary and so diverse but you can be on a tropical beach one day, climbing a volcano the next and in a cloud forest the following day.
Costa Rica was the first tropical country to stop and reverse deforestation successfully restoring its forestry to ensure a rich ecosystem that supports a true abundance of strange and wonderful creatures from the three-toed sloth to the red-eyed tree frog. A pioneer in eco-tourism, here sustainability and adventure is a way of life. You can zip line through the jungle canopy, surf Tamarindo's rolling waves or simply relax in bubbling hot springs as you soak up the mineral rich warm volcanic springs water.
Costa Rica has been a stable democracy since 1948 when all around there have been uprisings, insurgencies and civil wars. With no military to fund they have concentrated on preserving their unique environment where nature thrives from the rainforests of the central highlands to the jungle-fringed beaches on its long coastline.
Costa Rica has a tropical climate all year round and our 14-day tour coincides with the dry season – although its never completely dry. By contrast the rainy season is always wet.
Included in the tour is a 4×4 Toyota Prado or similar with full insurance cover and unlimited mileage. We have chosen the best/most iconic or perfectly located hotels to make your trip memorable.
We have created a route that explores the best parts of Costa Rica from the beautiful Pacific coast to the volcanic springs and cloud mountains all of which have unique habitats to explore.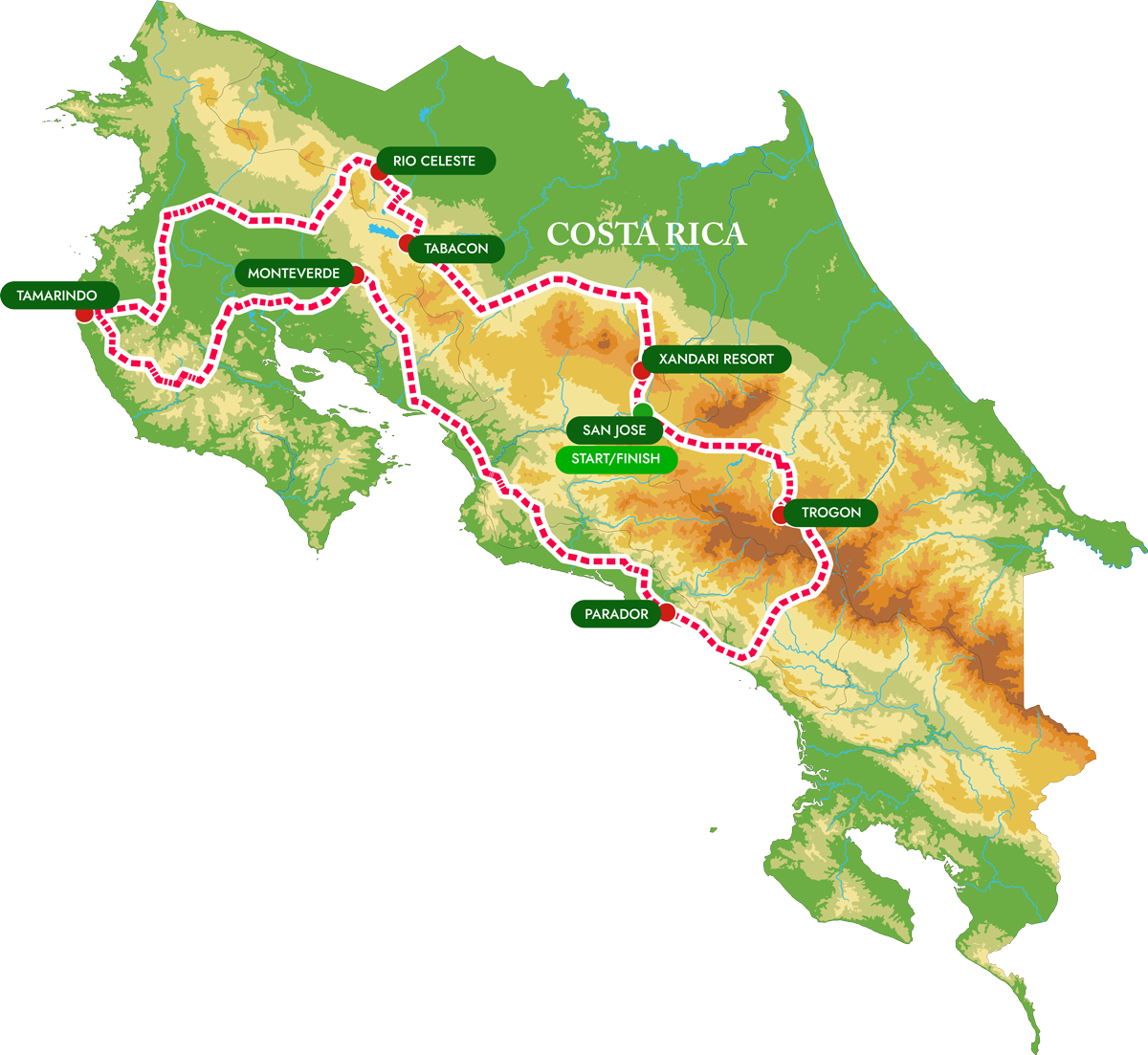 – Hire car – Toyota Prado 4×4 or similar, including full
  cover insurance and unlimited mileage
– An upgraded twin or double room each night
  with breakfast
– Most evening meals
– Route on Garmin GPS
– Local knowledge
– Suggested tours and events
Day 1 Arrive and pick up car go to Xandari Resort
Day 2 Drive to Tabacon for three nights
Day 5 Drive to Rio Celeste for one night
Day 6 Drive to Captain Suizo for two nights
Day 8 Drive to Monteverde Lodge for two nights
Day 10 Drive to Parador Resort for two nights
Day 12 Drive to Trogon Lodge for one night
Day 13 Drive to San Jose for one night
Day 14 Depart
ACCOMMODATION
We aim to provide the best and most suitable accommodation throughout the rally, taking into account the need for parking and ease of access. Breakfast is included for each night and evening meals are provided on travelling days.
WHAT'S NOT INCLUDED
• Any flights
• Any transport not included
• Personal insurance, visas
• Personal drinks/meals/fuel/tolls, any other costs
TESTIMONIAL
"The GP of South America was a great event and John and I enjoyed ourselves immensely. It is always good to be the first to try something that no one else has done for a long time, in this case 70 years. Your team were fantastic and that made it even more enjoyable . The roads were challenging as they should be and the scenery spectacular. The hotels were good quality and the food was very good. This is an event for anyone who wants an adventure and I would whole heartedly rec- ommend it; if you want to do something a bit different, exciting and a bit of a challenge, then the GP of South America is for you. Thanks John and team for putting together such a great event."
Paul Michael, The Grand Prix of South America 2018
WANT TO TALK TO THE RALLY TEAM? CALL US NOW ON + 44 (0)1483 271 699
DISCOVER MORE ABOUT BESPOKE RALLIES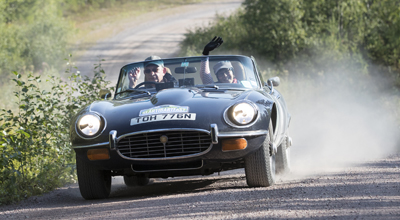 WHY BESPOKE RALLIES IS THE BEST
We've considerable experience of organising motoring events including classic car tours in SE Asia, India, South & Central America and Europe.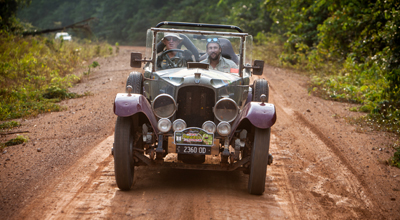 PAST RALLIES
We covered all over the world from South America to South Asia, Hindukush to Himalaya with thousands of travellers.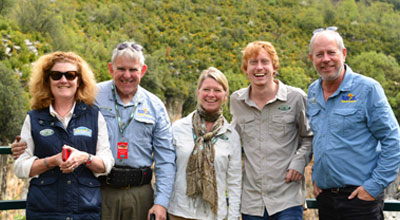 OUR TEAM
Our experienced and passionate team will help you to organise your event or you can enjoy our own tailor made rallies.
What our participants say!
Adrian Turner, The Slartibartfast 2017
"The genius of Slartibartfast is that it combines an eight day rally through the whole of Scandinavia with a luxury six day cruise and tour along the Atlantic coast of Norway; it takes you as far east as Egypt and further north than Alaska."