RALLY LIVE – THE SPITFIRE SCRAMBLE 2023

April 28 to 30, 2023
2 Day Regularity Rally
 RALLY HAS NOW FINISHED. FINAL RESULTS, GALLERY & PARTICIPANTS DETAILS BELOW.
A unique two day event that promises one lucky participant will win a passenger flight in a Spitfire*.
Based at Sywell Aerodrome, our traditional home for the Spitfire Scramble Rally, this unique event includes two days of regularity and tests from the Art Deco setting of Sywell where they restore WW2 Spitfires. At the end of the event all the names of the participants will be put into a flying hat and the  dramatic draw for Spitfire passenger flight will take place during the prize giving. With the rally limited to 30 cars you have a great chance of winning this incredible prize.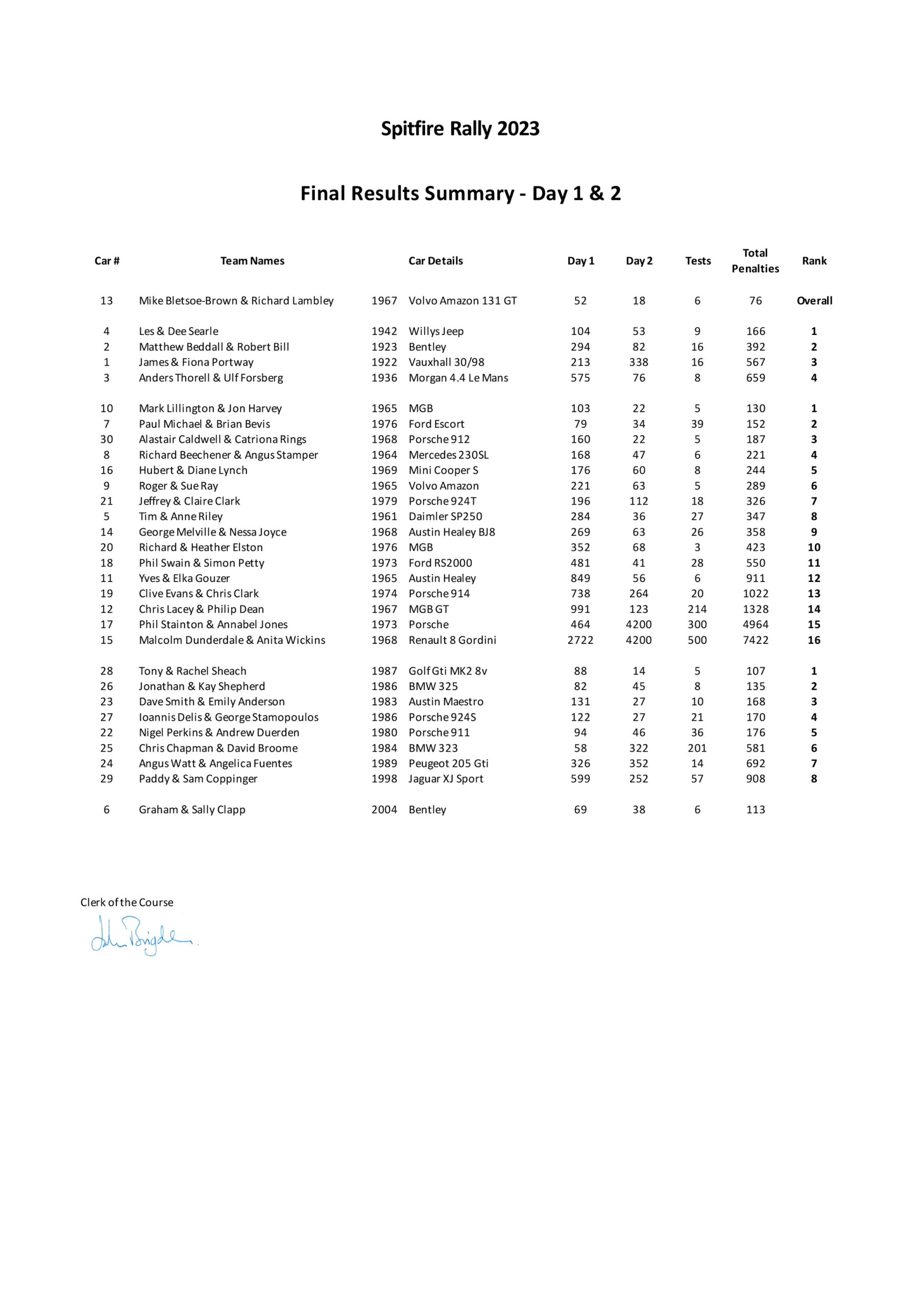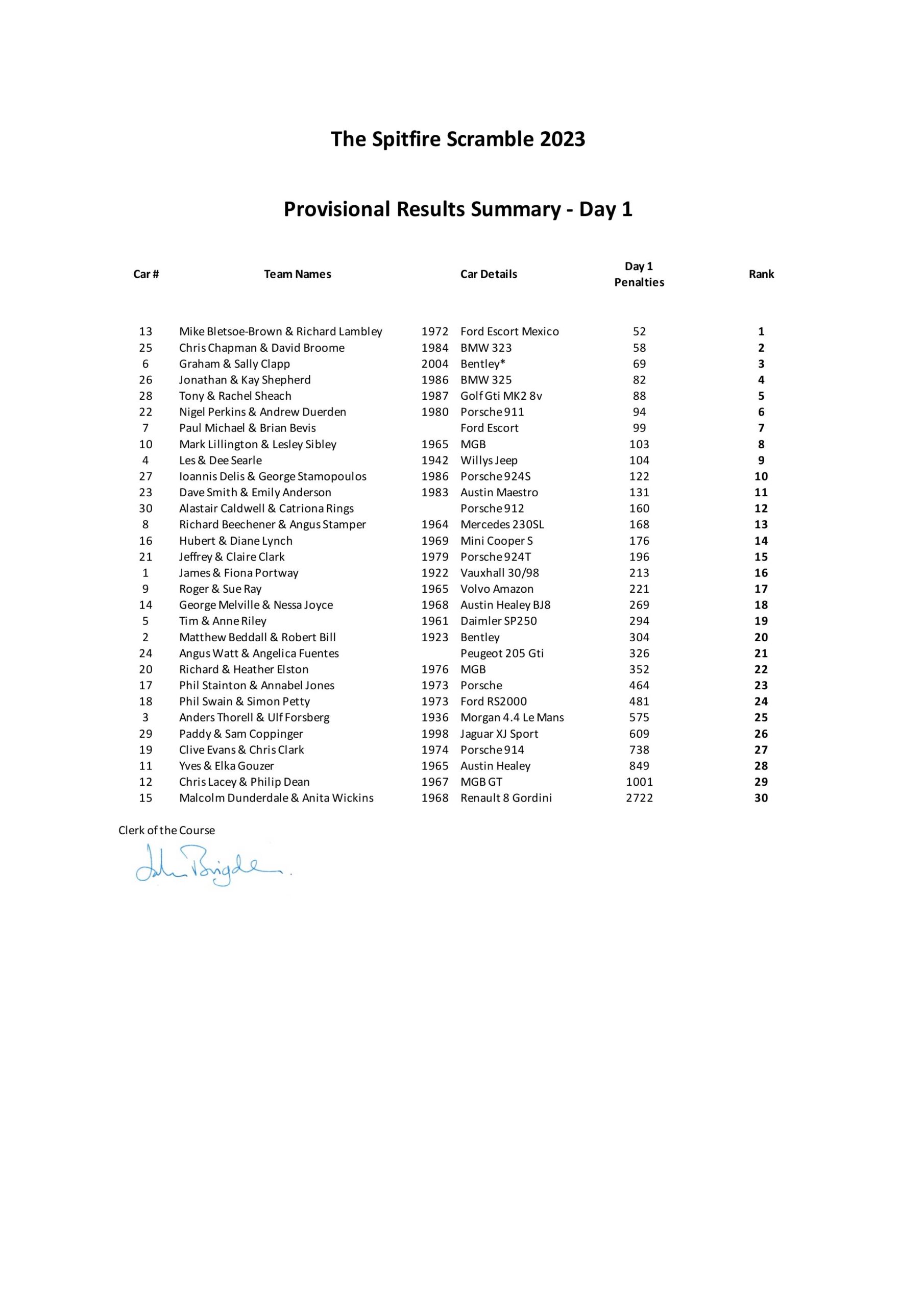 class

#

name
car

year

VINTAGE

1

James
Portway
Vauxhall 30/98

1922

Fiona
Portway

VINTAGE

2

Matthew
Beddall
Bentley 3/415

1923

Robert
Bill

VINTAGE

3

Anders
Thorell
Morgan 4.4 Le Mans

1936

Ulf
Forsberg
VINTAGE

4

Les
Searle
Willys Jeep

1942

Dee
Searle

CLASSIC

5

Tim
Riley
Daimler SP250

1961

Anne
Riley

CLASSIC

6

Graham
Clapp
Jaguar E Type

1963

Sally
Clapp

CLASSIC

7

Paul
Michael
Mini Cooper S 1275

1964

Brian
Bevis

CLASSIC

8

Richard
Beechener
Mercedes 230SL

1964

Angus
Stamper

CLASSIC

9

Roger
Ray
Volvo Amazon

1965

Sue
Ray

CLASSIC

10

Mark
Lillington
MGB

1965

Lesley
Sibley

CLASSIC

11

Yves
Gouzer
Austin Healey 3000

1965

Elka
Gouzer

CLASSIC

12

Chris
Lacey
MGB GT

1967

Philip
Dean

CLASSIC

13

Mike
Bletsoe-Brown
Ford Escort Mexico

1972

Christine
Gould

CLASSIC

14

George
Melville
Austin Healey BJ8

1968

Nessa
Joyce

CLASSIC

15

Malcolm
Dunderdale
Renault 8 Gordini

1968

Anita
Wickins

CLASSIC

16

Hubert
Lynch
Mini Cooper S 1293cc

1969

Diane
Lynch

CLASSIC

17

Irvine
Laidlaw
Porsche 2.7RS

1973

Annabel
Jones

CLASSIC

18

Phil
Swain
Ford RS2000

1973

Simon
Petty

CLASSIC

19

Clive
Evans
Porsche 914

1974

Chris
Clark

CLASSIC

20

Richard
Elston
MGB

1976

Heather
Elston
CLASSIC

21

Jeffrey
Clark
Porsche 924T

1979

Claire
Clark

MODERN CLASSIC

22

Nigel
Perkins
Porsche 911

1980

Andrew
Duerden

MODERN CLASSIC

23

Dave
Smith
Austin Maestro

1983

Emily
Anderson

MODERN CLASSIC

24

Peter
Myles
Porsche 911

1984

Louise
Myles

MODERN CLASSIC

25

Chris
Chapman
BMW 323

1984

David
Broome

MODERN CLASSIC

26

Jonathan
Shepherd
BMW 325

1986

Kay
Shepherd

MODERN CLASSIC

27

Ioannis
Delis
Porsche 924S

1986

George
Stamopoulos

MODERN CLASSIC

28

Tony
Sheach
Golf Gti MK2 8v

1987

Rachel
Sheach

MODERN CLASSIC

29

Paddy
Coppinger
Jaguar XJ Sport

1998

Sam
Coppinger

GALLERY – THE SPITFIRE SCRAMBLE









































































































































LIVE TRACKER – THE SPITFIRE SCRAMBLE