With only a few hours of driving remaining, the stakes suddenly seem just that little bit higher on the final day. After two days of graft, everyone is finally finding their groove and the spirit of competition is in the air.
So it was with a slight sense of trepidation that we set off this morning. Before long we had formed an orderly convoy along the A68, with its long, straight Roman road sections, its undulating rollercoaster ride ups and downs and its blind summits. In the small village of Rochester, signposts for "the last café in England" shouted out from the side of the road before we began a long ascent that culminated between two massive granite marker stones at Carter Bar and a cheery Welcome to Scotland sign.
Not far across the border we took advantage of an invitation from Simon and Bridget Fraser, good friends of the E-Type pairing of Graham and Trygve, to drop by and visit them at Corbet Tower, a striking Castle-like Victorian house with attendant medieval peel tower. It was a real privilege to stop over for a midmorning coffee and cake and take a quick scoot around their stunning gardens.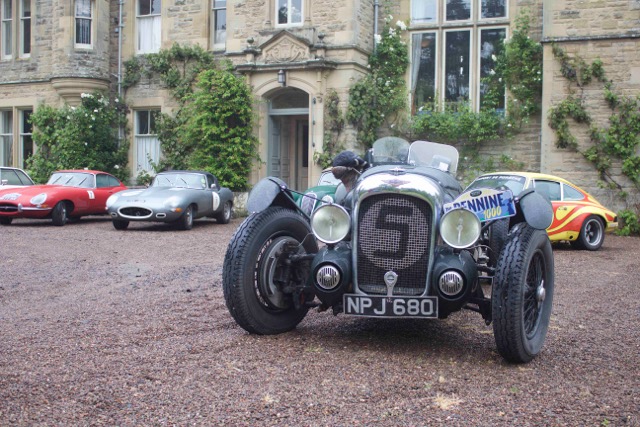 As we pulled out back onto the road we came across something that it's fair to say that you really can't legislate for when you're taking part in a classic car rally: a classic tractor rally coming in the opposite direction. More than 25 Masseys, Fordsons, Fergusons and old Jon Deeres trundled by at trotting pace leaving a slightly hazardous trail of diesel in their wake.
Later in the day we all congregated in the small village of Duns in the Scottish Borders, home to the Jim Clarke Motor museum.  It had some wonderful exhibits, none more mesmerising than the stunning Lotus Type 25 in which Clark competed in 10 Grand Prix's in the mid 1960s, and in which he won at Spa, Silverstone, and in the Dutch and French Grand Prix.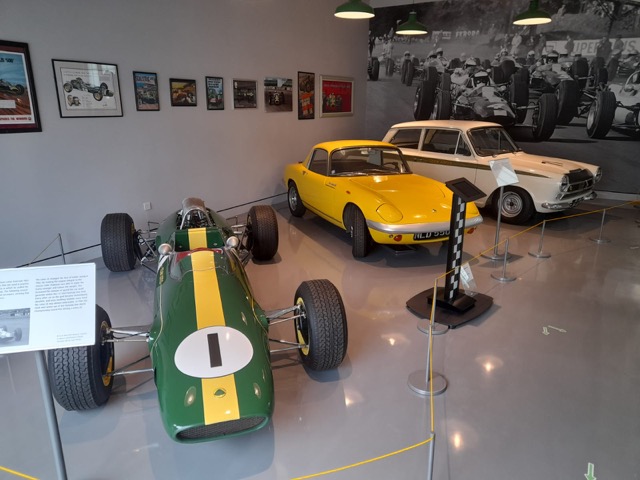 Later in the evening we reconvened in the hotel's Whisky Snug for the results and prize-giving. The 1970s class winners were David and Julia Ring in their BMW 2500, the 60s winners were TT and Graham in their 1963 E-Type, and Andrew and Anne Davies were victorious in the Vintage category in their 1931 Desoto Roadster. The outright winners, however, were the popular pairing of James Sylvester Evans and Paul Glendenning in their Austin Healey 3000. Father and son team of Trevor and Alex Conway got a special mention from mechanic Toby, too, for their perseverance/stupidity in choosing to drive a patently unsuitable track car up hill and down dale across the north of England and Scotland for three days. It was a crazy decision but they evidently loved every moment of it. Though the same is probably true of all of us…