12-year-old Merlin Stamper navigates his dad 1,500 miles across the USA
Everybody needs a break from work, and Bury St Edmunds-based potato farmer Angus Stamper's favourite hobby is classic rallying, which is how he came to be driving his Mercedes 280 SL on Bespoke Rallies' recent Pan Am event, that in turn led to his 12-year-old son Merlin possibly qualifying as the 'World's Youngest Rally Co-driver/Navigator'.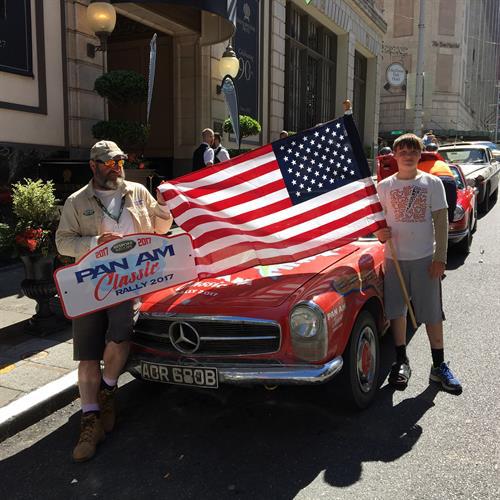 Guinness has been informed
Bespoke Rallies director John Brigden takes up the story: "The 30-day action-packed event led contestants some 5,800 miles from the Atlantic to the Pacific via the byways of old America. For the last 1,500 (San Francisco to Seattle), Angus was accompanied by his young son, who therefore assumed responsibility for the navigation, time-keeping and the related time cards etc – onerous tasks for someone of any age, which he managed with aplomb and without getting his father lost in the wilderness of America's great outdoors.
"We were sufficiently impressed with his performance to see if this qualified him for an entry in the Guinness World Records and discovered that, while there is a record for the Oldest Co-driver/Navigator (New Zealander Dorothy Caldwell now aged 99), a category for Youngest Co-driver/Navigator has yet to be created; a situation we are in the process of investigating."
Suitably excited by his first rally, Merlin now has aspirations of taking up the sport seriously. He has already learnt to drive on the family farm and can regularly be spied out and about the land aboard his own classic Range Rover. Said Angus: "Considering his age, and the fact he was thrown in completely at the deep end, I would say he acquitted himself extremely well on the rally, and it would certainly be cool if he were to get his name in the record books. Either way I've no doubt he'll be back for more, and there's a likelihood of his twin sister having a go too – the bug has bitten the family hard!
More great events from Bespoke Rallies
Upcoming opportunities include: 
Cuba Classic Rally – January 2018
The 3rd Maya Classic Rally – February 2018
The Grand Prix of South America – October 2018
Wild Borneo – May 2019
Magical Madagascar – June 2019
Further details of everything on offer from this pioneering rally organiser are available at www.bespokerallies.com, while those attending the Goodwood Revival meeting (September 8-10) have the opportunity to chat to the team direct on Stand 191, that's located near the Bonhams auction site. 
-Ends-